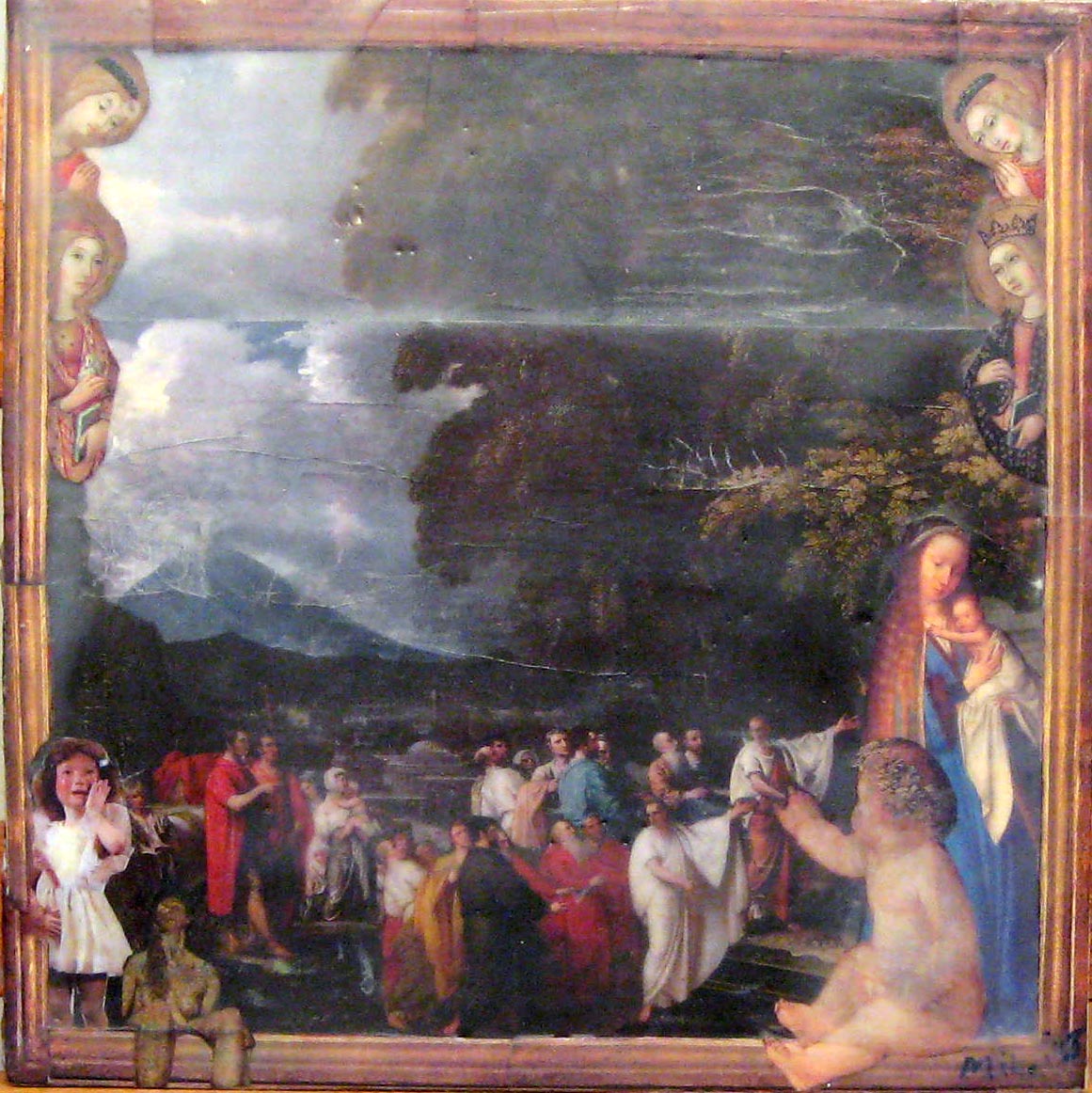 George
12" x 12" encaustic collage on board.
2008
$600
This piece is about creation. I call it George due to the George Washington portrait (stamp) I used to personalize the imagery.
The Look of Love
2007, Encaustic Collage on Board
This piece is 8" x 8" and was inspired by Vermeer.
$250
Schnabel's Dog
2007, Encaustic Collage on Canvas, 8" x 12"
$250
I found this picture of Julian Schnabel with his dog in the NY Times and thought it was very "cute." I decided to make an art statement about it.
Death and the Maiden
2007, Encaustic Collage on Board, 12" x 12"
$300
A tribute piece to Franz Schubert's Quartet No 14 in D Minor. The first time I heard it played was by The Emerson Quartet and I was blown away. I listened to it over and over while making this piece.
Boris
2007, Encaustic Collage, 12" x 12"
$600
A combination of portraits and mysterty. It's a musical tribute piece to the Russian conductor and opera lecturer, Boris Goldovsky, who I worked with during my early years as Stage Manager at The Metropolitan Museum of Art. He was a very imposing character and creative inspiration. He died at the age of 92 in 2001.
Adam
Encaustic Collage on Canvas, 8" x 12"
2007
Sold--In the collection of Jill Farrer, South Orange, New Jersey.
Encaustic Abstraction
Encaustic Collage on Board, 10" x10"
2008
Waxing Encaustic
2008, Encaustic on Paper mounted on Masonite, 29.5"x 41.5"
$900
This piece was done on a large piece of Arches printmaking paper. I painted it on the wall of my studio and then built the masonite mounting and glued it to the masonite.
It is on loan to Keats and Demirhan Yenigun, South Orange, NJ
Brain Salad (Homage to Caravaggio)
2008, Encaustic Collage on Board, 17.5"x 29.5"
$500
This is a good example of how I like to use historical paintings by the old masters and bring them into the present, making it something new. In this case, I used Caravaggio's "Supper at Emmaus" and a Degas dancer among other things. I am not poking fun at religion, I am rather poking fun at art history.
Homage to Ab. Ex.
Encaustic Collage on Board, 2008, 18"x 24"
$450
This homage to Abstract Expressionism uses images from various sources. You can see DeKooning, Pollock and Rauschenberg. Also included is the famous photograph of the "New York School" painters called "The Irascibles" taken by Nina Leen in 1950 for Life Magazine. I added Picasso as well, who is giving the whole thing the finger. It's not the middle finger, but it will do. And in the middle of everything is a classical nude representing the purity of painting that these guys were threatening at the time.
Ecstacy
Encaustic Collage on board, 2009, 8"x8"
$350
An epiphany, the Capital Building and a beautiful woman....what more do you need to be ecstatic?
Madonna and Child Revistited
Encaustic Collage on Board, 24"x 36"
$800
This piece is based on "The Duccio" as they lovingly refer to it at The Metropolitan Museum of Art where it lives and was purchased for an estimated 45 million dollars. I used to stand in front of this painting and gawk at its beauty and mastery. It is revered by curators and museum goers as one of the best examples of Duccio di Buoninsegna's work. It was estimated to be painted around the turn of the 13th century. I wanted to bring the concept of Madonna and Child up to the present day and have a little fun at the same time. So, I put in images of the singer Madonna with her child. Also, if you look closely I have made a frame of Madonna thumbnail pictures.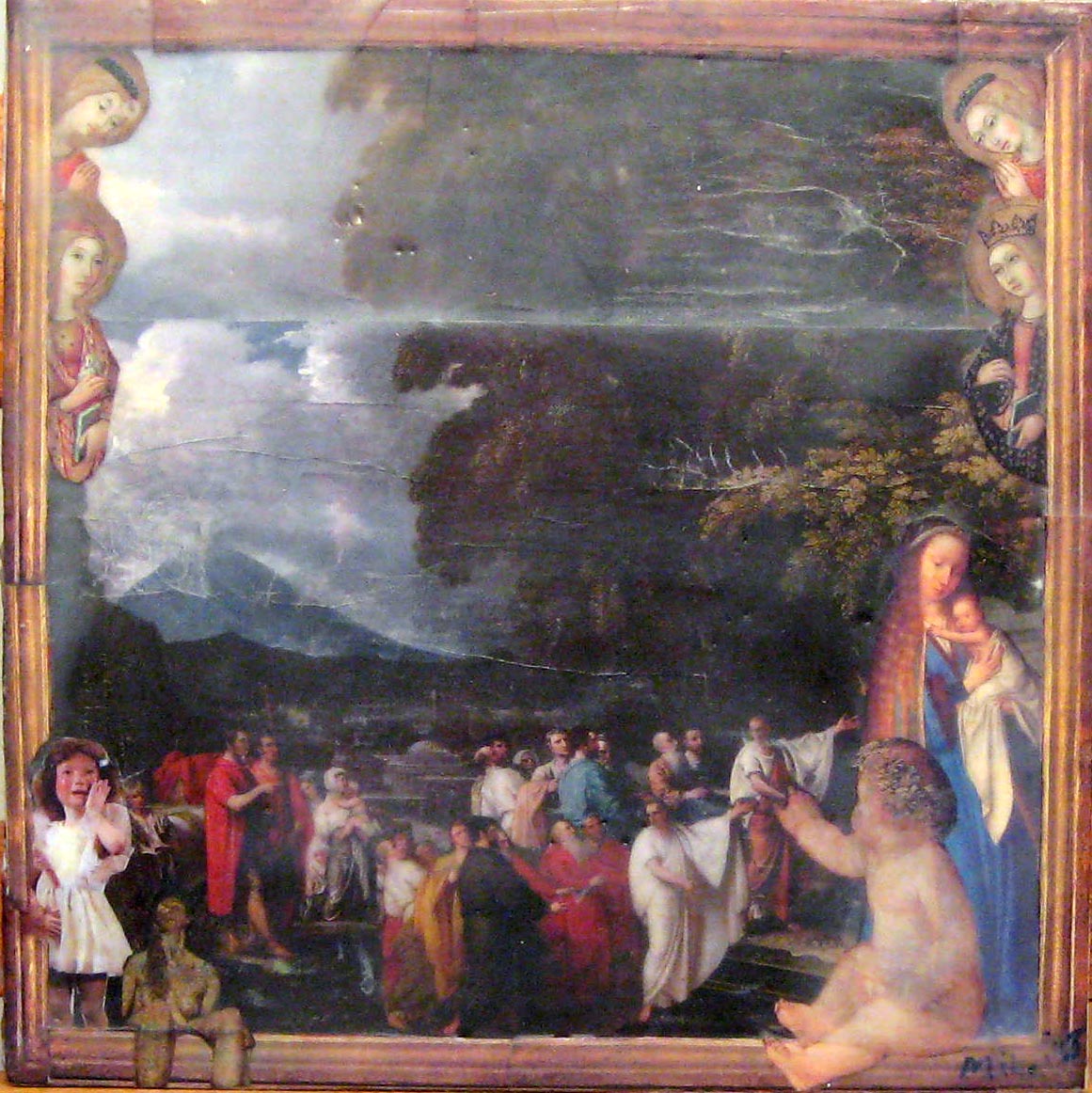 Look at This,
2010, Encaustic on Board, 8"x8"
SOLD, in the collection of Jamie Walhauser
El Bow
2009, Encaustic on Board, 8"x8"
$500
This is a simple and quick study of what could be human body parts, which is why I call it El Bow. It is inspired by the Abstract Expressionist movement of the 1940's and 50's. However, they were not painting with wax.
Blue Landscape
2010, Dry Encaustic and Collage on Board, 12"x 12"
$450